Self Sealing Sterilization Pouch
Product Description
The performance of our Disposable Sterile Packs Self Seal Sterilization Pouch
Triple Seal & Heat Processed
For a seal that is consistent and strong, eliminating the risk of shattering or tearing.
Wide Self-Seal Adhesive Strip
Easy-seal flap to ensure the integrity of contents after sterilization process.
Printed Indicator Arrows
Easy to read "Color Changing Indicator Arrows" printed on each pouch assuring proper sterilization process by Steam, Chemical Vapor or ETO.
Complete Film/Paper Separation
Clean separation (peeling) of the 2 ply compound See-throught Film (from the Medical grade paper) maintains the sterility of the contents until their use.
Blue/Green Tinted Transparent Film
For easier identification of contents and possible punctures by contrast of color.
ISO 13485 and CE Approved
11-3001 57*130mm 200pcs/box,60boxes/ctn
11-3002 70*260mm 200pcs/box,10boxes/ctn
11-3004 90*165mm 200pcs/box,10boxes/ctn
11-3005 90*260mm 200pcs/box,10boxes/ctn
11-3006 135*260mm 200pcs/box,10boxes/ctn
11-3007 135*290mm 200pcs/box,10boxes/ctn
11-3008 135*310mm 200pcs/box,10boxes/ctn
11-3009 110*305mm 200pcs/box,10boxes/ctn
11-3010 160*280mm 200pcs/box,10boxes/ctn
11-3011 130*370mm 200pcs/box,10boxes/ctn
11-3012 155*260mm 200pcs/box,10boxes/ctn
11-3013 140*280mm 200pcs/box,10boxes/ctn
11-3014 190*360mm 200pcs/box,10boxes/ctn
11-3015 135*280mm 200pcs/box,10boxes/ctn
11-3016 250*370mm 200pcs/box,5boxes/ctn
11-3017 250*400mm 200pcs/box,5boxes/ctn
11-3018 305*410mm 200pcs/box,5boxes/ctn
Usage:
are used by dentists,salons,hospitals,spas,tattoo arttists and many other types of medical facilities to enable the sterilization and storge of surgical instruments,medical gloves and wond care suppliers prior to use.
The Notes:
1. The sharp part of equipment should be put contrary to the peel side to ensure safety use;
2.. Tear off the release paper aside the tangent line, seal the pouch and mark the sterilization time, contents and usage etc.
3.The clear area with temperature below 25℃ and humidity below 60% is recommended, the valid period will be 6 months after sterilizing
4.Do not use if the pack is damaged.
The use Instruction of our key words:
Insert items into unsealed pouch

Peel off protective strip from adhesive band

Fold flap on perforation and press down firmly

Do Not Drop items into pouch
Picture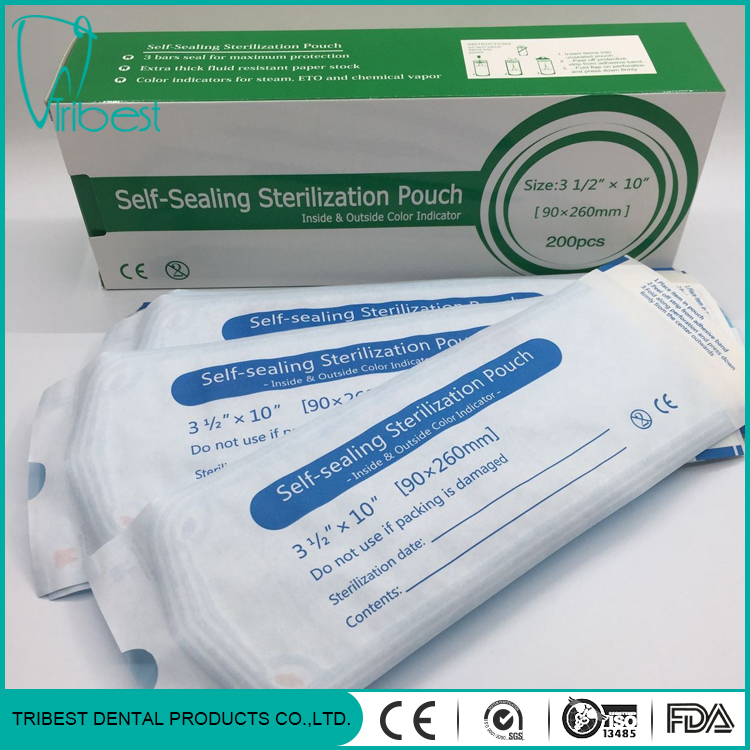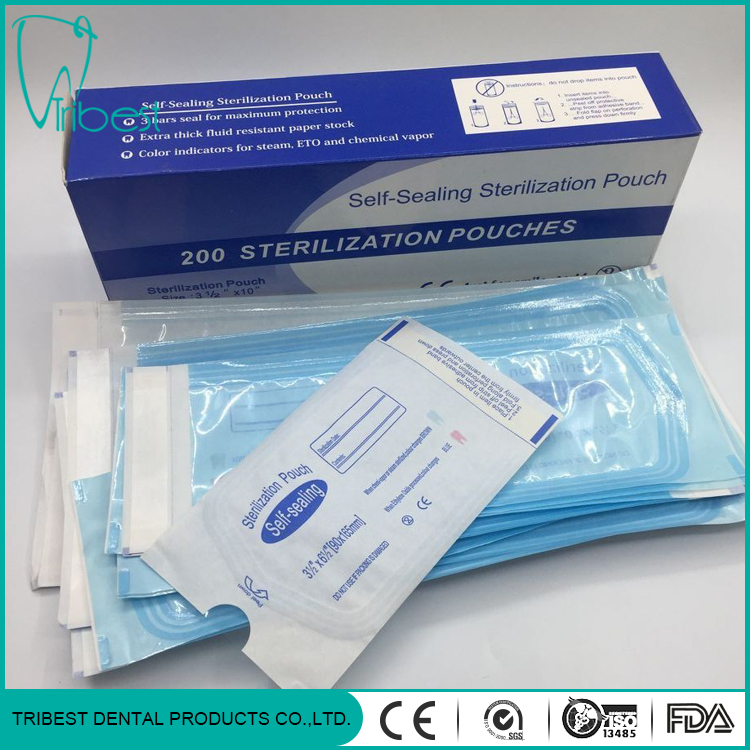 Company Profile
Tribest Dental Products Co.,Ltd.We was founded in 2006s.
We are one of main dental disposable and material manufacturers and exporters in China. Our company is located in Jiangsu province near shanghai.
Quality is our culture, we believe that the quality is the soul of enterprise.
Our main products are disposable dental products and material, such as dental bib, cotton roll, saliva ejector, dental plastic protect sleeve, non-woven face mask, non woven isolation gown, sterilization pouch, micro applicator, disposable glass and shield,disposable dental kit, air water syringe tips, syringes and syringes tips, surgical blade and braided, plastic tray,denture boxes, gutta percha and paper points, dental bur, polish brush,dental impression tray, plastic mixing applicator tips, matrix band series, mixing bowl and spatula, orthodontic series, dental teeth model, dental equipment, oral health care products and so on.
Most of our products pass CE, ISO and FDA.
We may not the best one in China, but we believe that we can be the best supplier of you through our effort.
With us your money is in safe , your business is in safe.
Группа Продуктов : Самоуплотняющаяся Мешок Стерилизации И Катушка